Top 5 Slack Apps To Boost Your Team Communication
What Airbnb, Buzzfeed, NASA, Salesforce and Droids On Roids have in common? We all use Slack! It is undeniably one of the best and most commonly used communication tools. Why? Because it is very simple to customize and make it the best tool not only to message other people but also to express a lot of feelings!
Everyone knows that communication is the rock star in our life. Especially in project's environments where you are a part of a big team of people who have to collaborate each other every day. So how to make even more Slack helpful? I want to present you my top 5 Slack integrations which made my daily communication easy and fun :).
Karmabot
How often do you feel like giving someone likes or points for being helpful? Or maybe appreciate them when they did something very impressive for your team? With Karmabot you can do it very easily! Simply add someone karma points and the bot will collect them for you in a simple board. Just add the Karmabot user to the channel and use user mention with one of the set of symbols i.e. ++ and reason, like @barbara ++ for great meeting summary. You can use the default settings or customize points for your needs. For more read: https://karmabot.chat
Polly
Slack doesn't support creating polls, but Polly is a great and lovely answer for that gap. The only thing that you need to do is to add the Polly bot to the chat room and create /polly with question and answers. After that, you can customize the poll and check the simple statistics! Sounds good? Add Polly to your team – https://www.polly.ai!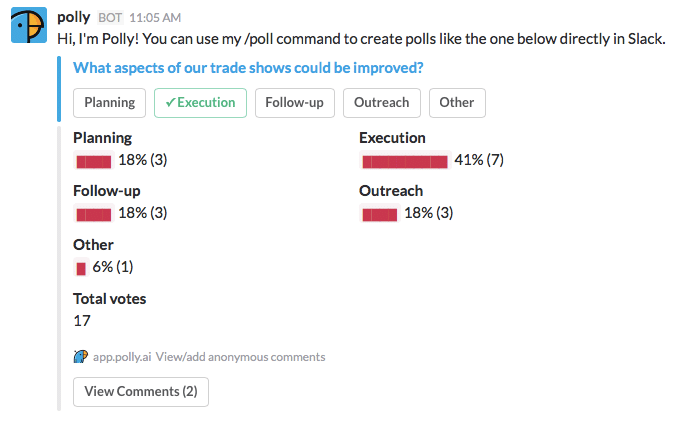 Lunch Train
In Droids On Roids, we have some habits and one of them concerns the lunch time. Every day at 12 am we're going for lunch and usually, we eat together in one of the restaurants near our office. To know who is going, we use Lunch Train integration. This is a simple tool for signing up to the list of people who want to go to the same place at chosen time without informing or asking everyone individually. See more at http://www.lunchtrainbot.com
Giphy
Who doesn't know the GIPHY app? One of the best tools for expressing the feelings, face mimic and the state of mind. Once used, it will stay with you until the end of your Slack journey :). Simply use command /giphy and add one word connected to a thing which you want to express. The gifs are displayed randomly, so for /giphy fun we have:
Nextup JIRA
This integration is for the teams that use JIRA as a task management tool. Standard JIRA integration doesn't link to the specific tasks when we use them as part of the sentence. With Nextup this problem disappears! For example, when you have a project with key "ABC" you can write ABC-12 and if it is a symbol of the existing task the bot will display the link with the full name, priority, creator and with the creation date. See more: https://www.nextup.ai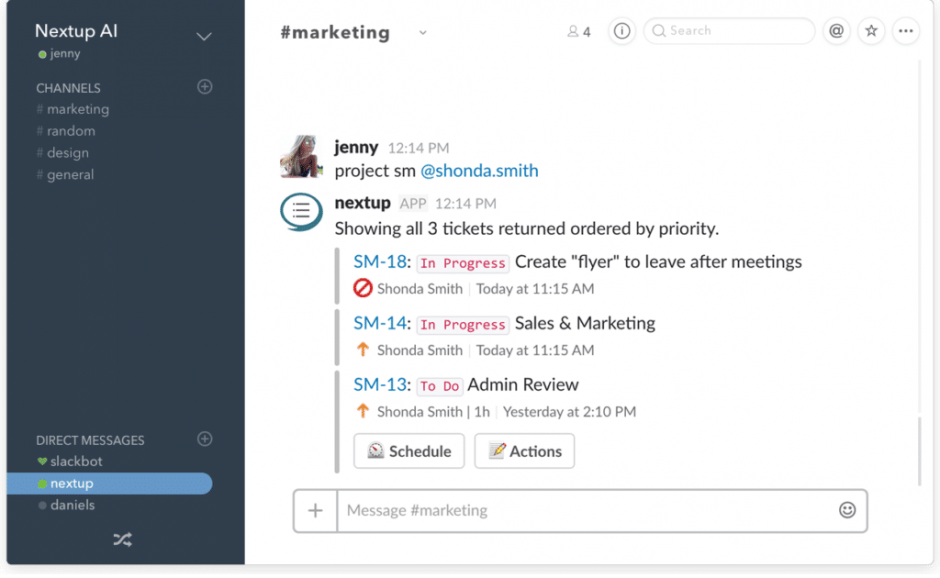 Hope you try at least one integration, though I highly recommend using them all. They will definitely boost your daily communication with team and make it more fun! Trust me – you won't regret that! Let me know which of the Slack integrations you use!
Build a mobile app with experts with 12 years of experience
Our experts help with the whole process from idea to app release